The automation of the packaging process, which has traditionally been a manual process, creates productivity, operational reliability and improved overall responsiveness. At the same time, the perceived value of packaging is an essential element in the customer's experience. Automation must, therefore, go hand in hand with specific responses in terms of protecting and securing parcels and adapting packaging sizes to the products ordered.
Packaging automation: 4 reasons to choose it
To ensure good warehouse performance and responsiveness, automating the packaging process is a relevant solution for reaching high quality and service goals. To achieve this, packaging automation must go hand in hand with specific solutions for reducing unused space in the parcels and securing and wedging products. There are four main reasons for automating your packaging process:

1. increase warehouse productivity
2. improve economic performance
3. develop a customer satisfaction vector (mainly in e-commerce)
4. reduce packaging volume and thus the environmental impact of shipments



PARCEL FORMING


Parcels are formed automatically from flat cut-out sections: trays, cardboard boxes and PAC 600 cartons are then ready to be launched and associated with an order.


PRODUCT WEDGING
Products can be wedged in place for optimum protection during the transport phase, using heat-shrinkable film or by adding a cardboard wedge for single-component packaging.

ADAPTING PACKAGES TO THE VOLUME SHIPPED


The reduction of the height of parcels to correspond to the products that they contain significantly reduces the empty space transported and means that all sizes of orders can be handled.

DELIVERY OF DOCUMENTS
Picking notes, delivery notes, invoices, etc. are automatically delivered with every parcel dispatched.

CLOSING
As an alternative to taping or strapping parcels, the automatic application of fairing with pre-cut openings guarantees tamper-resistance and facilitates customer returns.
Benefits
----------------------------------------------------------
| | | |
| --- | --- | --- |
| Increased responsiveness and preparation of orders as close as possible to the departure times of the transporters | Improved image with the end customer: secure, environmentally responsible packaging | Removal of bottlenecks in the manual packaging area and smoother transfer of parcels from the order preparation area to the shipment area |
| Protection of fragile products with high added value | Reduction in volume to be shipped and therefore the number of lorries required | Significant reduction in the risk of product damage |

Our solutions
----------------------------------------------------------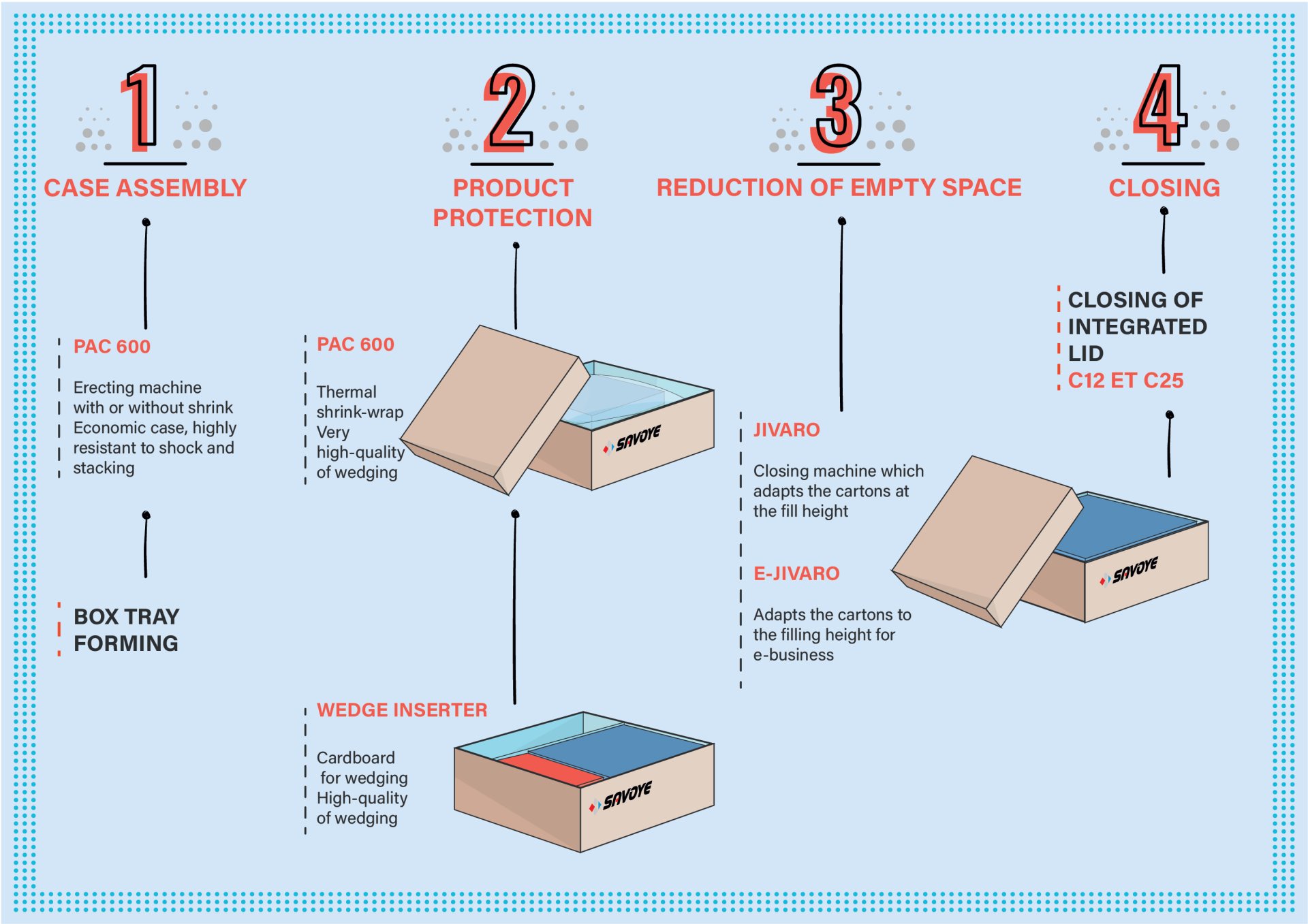 Packaging automation: what's the best solution for my business?
Sturdy packaging? Automated wedging? Package size adjustment? With so many solutions available, drawing up a list of criteria and needs is essential to making the right choice. To help you with your choice, we have put together five standard profiles regrouping the situations observed in the majority of our customers' companies who have integrated automation into their packaging process. These five profiles cover the following commercial sectors :

1. Cosmetics production and distribution
2. Fashion and accessories e-commerce
3. Office supplies distribution
4. High-tech e-commerce
5. Distribution of industrial supplies and spare parts
Forming and wedging: PAC600
----------------------------------------------------------

PAC600 is a packaging concept with many advantages that satisfies the need for product protection from palletisation to delivery to the end customer:


Significantly reduce the risk of damage and secure fragile products with high added value


Ensure that products are well positioned in the package and reinforce brand image with the customer

PAC600 is first and foremost an extremely durable box concept, which is both compatible with thick corrugated cardboard and cost-effective, as the cardboard flaps are minimised.

In addition, PAC600 also has high-quality wedging technology, which is based on heat-sealing and shrinking of plastic wrap while the box is being shaped. PAC600 film is THE solution that gives the best guarantee for products, making them 100% secure and protected inside tamper-proof cardboard packaging.
The range of PAC600 machines
| | | |
| --- | --- | --- |
| PAC600 box forming machines, with or without film | Shrinking tunnels | Lid placing |
Advantages

| | |
| --- | --- |
| Very high quality wedging suitable for large and small, heavy and light products, and above all for fragile products | Technology that makes the packaging tamper-proof and dust-proof |
| Excellent mechanical resistance, ideal for large-format carton palletisation and transporting heavy products | Minimal cardboard consumables used as there are no flaps |
Jivaro and E-Jivaro: adapting to package height
----------------------------------------------------------

Jivaro and E-Jivaro are closing machines which adapt the height of packages to the volume of products inside, in order to dispatch the smallest volume possible to the customer.

Jivaro and E-Jivaro are a solid and efficient answer to the issue of cost/volume shipped and to the challenge of reducing CO2 emissions.

Jivaro and E-Jivaro also ensure secure shipping and entirely automated closing of boxes.
Advantages

| | | | |
| --- | --- | --- | --- |
| Reduce volume to be shipped and therefore the number of lorries required, and allow transport costs to be managed better | E-Jivaro: specifically for e-commerce packaging, allows height reductions of up to 25mm, for packages similar to an A5 format | Improve the environmentally responsible image of your business with the end customer | Reduce shipping and labour costs |
| Lid placing included: compact, all-in-one solution | Up to 4 lid stores for increased package personalisation | Flaps cut without additional gluing to make it easier to open the package | Very good package geometry |
Download the Jivaro product data sheet
WEDGE PLACEMENT
----------------------------------------------------------

Our system for placing cardboard wedges is a high-level wedging solution, suitable for many distribution sectors, B2B as well as B2C. Our machine is fully automated and adapts the wedge to the height of the different products.

The items are kept in place by folding down the two flaps at each end of the wedge and by the lid that holds everything together.
Advantages

| | |
| --- | --- |
| The fact that the wedge is deformed means it can be highly adapted to the product profile. | Solid and tamper-proof unit |
| Adding a cardboard wedge means high-quality product wedging. | Easy to recycle as the materials are homogeneous |
DELIVERY OF DOCUMENTS
----------------------------------------------------------

Our document delivery, coupled with photocopiers and printers on the market, allows for the insertion of preparation and delivery slips, invoices, etc. in parcels either when empty parcels are launched or when the preparation of filled parcels is complete.

A number of document delivery models are available, depending on timing requirements and the printing type (insertion sheet by sheet or several sheets at the same time) as well as the positioning of the machine upstream or downstream of order preparation.
Avantages
| | |
| --- | --- |
| Delivery of up to 20 packages per minute | Insertion both in empty and filled packages |
Download the "packing machines" product data sheet