Hänel Rotomat® storage carousels
Optimizing procedures, increasing flexibility, lowering costs
Rationalization, cost-cutting, efficiency: these are all demands that modern-day storage organizations must meet!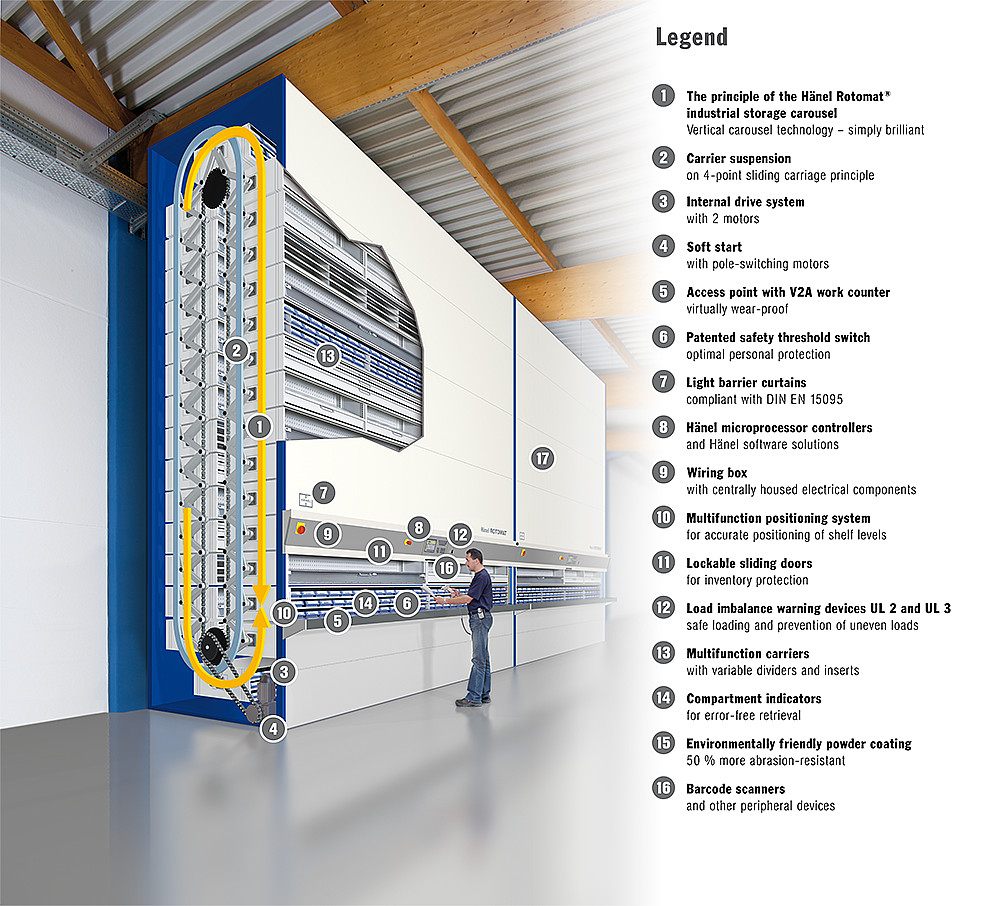 Quality and leading-edge technology 'Made by Hänel'
In 1953 Gerhard Hänel founded the office equipment company 'Hänel Bürosysteme'. By 1957 Hänel was series-producing filing carousels based on the Ferris wheel principle – the first manufacturer in Europe to do so.

Today Rotomat® carousels and Hänel Lean-Lifts® are produced in three manufacturing plants – and exported worldwide. Hänel has distributors in over 50 countries across the globe.

Innovation and performance, dynamics and ideas, new technologies and team spirit have made Hänel one the leading providers of storage and organization systems.

With the Hänel Rotomat® industrial carousel, we offer a flexible storage and provisioning system that adapts optimally to your needs.

Up to 60% more storage capacity
The Hänel Rotomat® industrial carousel makes use of the available room height and creates up to 60% more storage capacity thanks to its compact design. This means costly warehousing space can be used more efficiently.

Work time slashed
The Hänel Rotomat® storage carousel brings the required parts to the retrieval area in just a few seconds.

Ergonomics
No more bending, ladder-climbing or walking long distances to search for and store parts or articles. The required items are brought automatically to the optimum ergonomic retrieval height.

We are committed to environmental protection
It goes without saying that production at our three plants meets the latest environmental guidelines. Only environmentally friendly, recyclable materials are used.

The right decision
If you want to improve your storage organization and reduce costs, you should talk to the specialists at Hänel first. They will work with you to develop your own 'tailor-made intralogistics concept'.
Distinct advantages over conventional
rack storage and MLS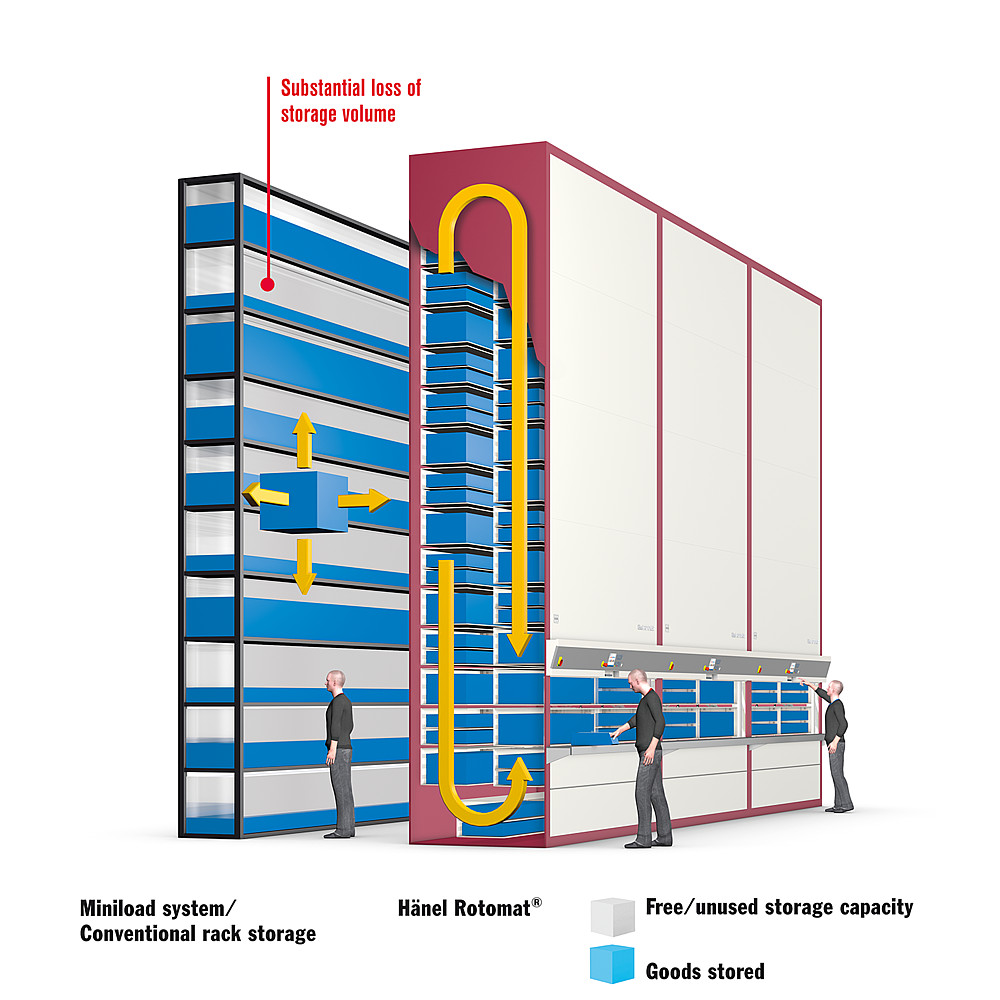 The Hänel Rotomat® offers up to 60% more storage capacity
than a miniload system or conventional rack store on the same footprint

One glance in the Hänel Rotomat® shows the advantages clearly: Adapting the multifunction carriers to suit the inventory items means that highly varied parts can be stored optimally without any loss of space!

Key points speak in favor of
the Hänel Rotomat® industrial carousel:

The pluses
• Up to 60% more storage capacity.
• Storage capacity can be adapted step by step.
• Several people can operate multiple carousels and process jobs simultaneously.
• Retrieval times are considerably shorter.
• Units can be added, expanded or separated at a later time.
• Better usage of storage volume thanks to customized divisions in the multifunction carriers.
• Decentralized storage right in the production hall.