Vertical technology – simply brilliant
The Hänel Lean-Lift® – the original with the profile wall
The Hänel Lean-Lift® is the logical compliment to the time-proven Hänel Rotomat® principle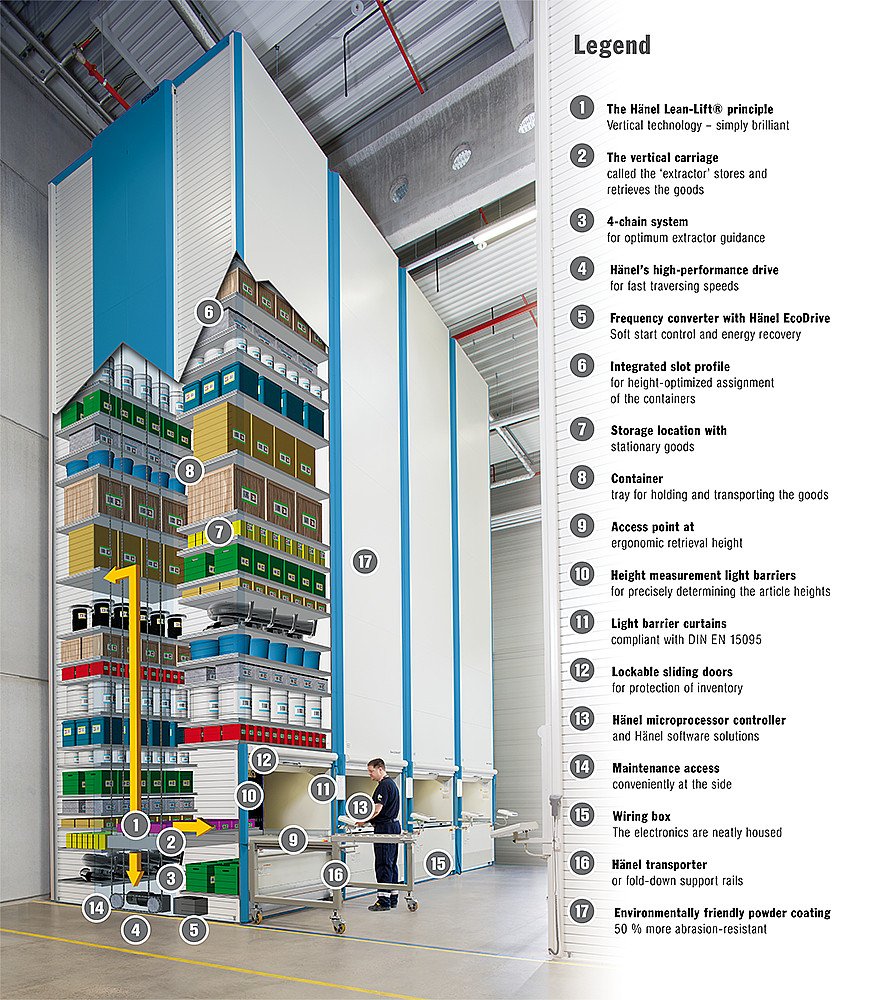 The automated 'high-bay warehouse in a cabinet'
The Hänel Lean-Lift® is both storage rationalization and goods protection in one: At the center of this closed system is a computer-controlled positioning lift – the 'extractor'.

In front of it and behind it are the storage shelves. This is where the articles are stored in containers in height optimized positions. The storage locations are accessed automatically under electronic control by means of the extractor, which stores or retrieves the requested container. The goods are then delivered to the retrieval area at the correct ergonomic height.

This ingenious principle finds applications in a wide variety of industries. Used in the medical technology and electrical engineer­ing sectors (for which ESD versions are possible) and also in the automotive, aircraft and pharmaceutical industries or in mechanical engineering, the mail-order and wholesale trades – the Lean-Lift® is the ideal buffer, dispatch, production or tool store, to name but a few sectors that demonstrate its versatility.

Our specialists would be happy to show you references from your line of business – just send us an inquiry.

The pluses
• Fast storage and retrieval times.
• High storage density, even when articles have different heights.
• Goods to man is the motto instead of man to goods: this saves time.
• Improved order-picking performance.
• High economic efficiency and cost savings.
• Protection of inventory.
• Storage and handling of bulky and heavy parts.
• Load-bearing capacity of up to 1,000 kg per tray.
• Load-bearing capacity of up to 60,000 kg per Lean-Lift®
(higher payloads on request).
• Integrated storage management.
Less warehouse is more
Distinct advantages over conventional
rack storage and MLS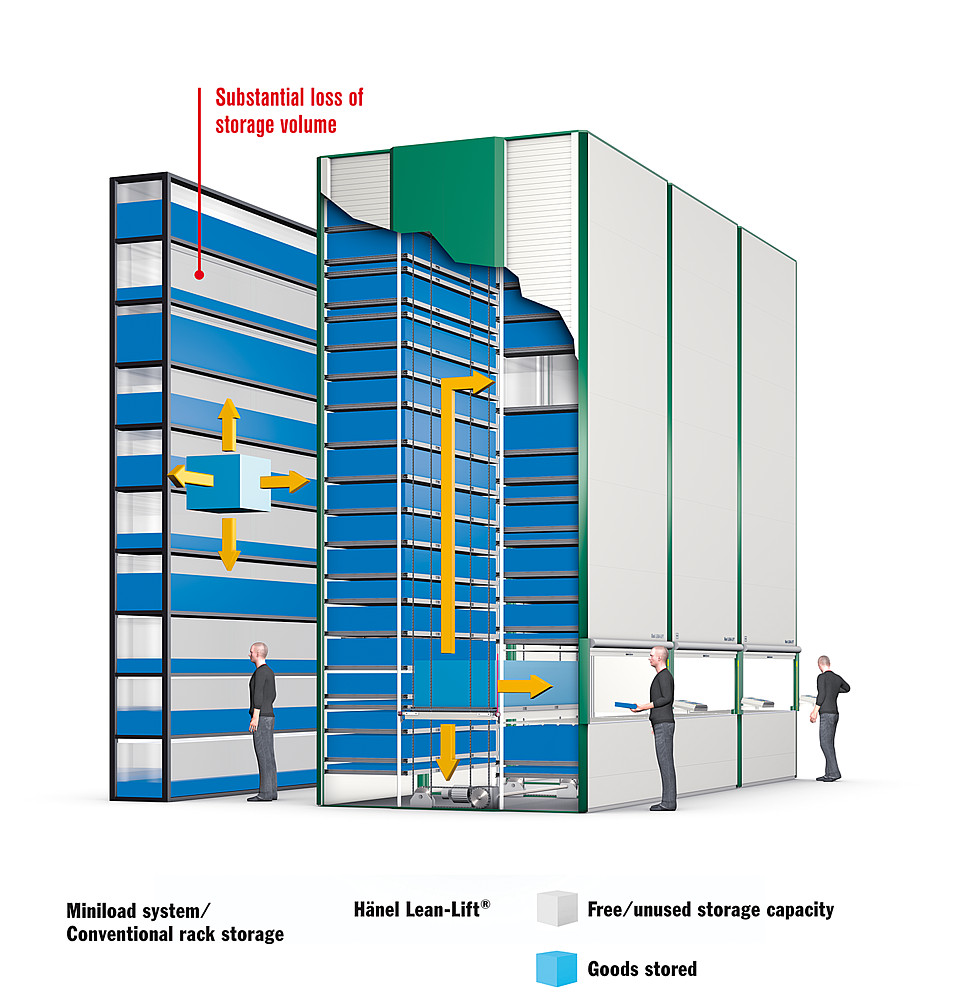 The Hänel Lean-Lift® offers over 60 % more storage capacity than a miniload system/rack store on the same footprint
One glance in the Hänel Lean-Lift® shows the advantages clearly: Optimum storage of highly varied parts without any loss of space! Key points speak in favor of the Hänel Lean-Lift®:
Distinct advantages over conventional
rack storage and MLS
• Storage capacity can be adapted step by step.
• More than one person at a time can operate the lift and process jobs.
• Retrieval times are considerably shorter.
• Units can be added, expanded or separated at a later time.
• Better utilization of storage volume thanks to height-optimized storage.
• Decentralized storage right in the production hall.